Bundle (70-741): Microsoft Networking with Windows Server 2016 (Practice Test + Video Training + Virtual Lab)
This special bundle is discounted for you, and includes the learning resources outlined below. The complete details of each of the products can be found by clicking on the cubes below. ALL products of the bundle must be registered within 30 days.
"This exam was retired in January 2021. MeasureUp will not update this practice test and any purchases of it will not be refundable."
Special Price
$161.37
Regular Price
$268.95
Included
1x Virtual Lab 70-741: Microsoft Networking with Windows Server 2016 Series-Virtual Lab
1x Video Training 70-741: Networking with Windows Server 2016-Video Training
1x Microsoft Official Practice Test 70-741: Networking with Windows Server 2016-1 Year Online
Featured products Related Products
Special Price

$118.27

Regular Price

$168.95

Special Price

$118.27

Regular Price

$168.95

Special Price

$118.27

Regular Price

$168.95

Special Price

$202.74

Regular Price

$337.90

Special Price

$118.27

Regular Price

$168.95

Special Price

$118.27

Regular Price

$168.95

Special Price

$101.37

Regular Price

$168.95
Products included
Special Price
$32.47
Regular Price
$49.95
Special Price
$65.00
Regular Price
$100.00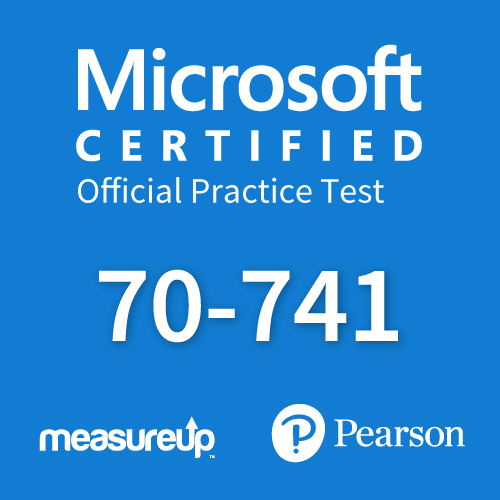 Special Price
$77.35
Regular Price
$119.00